PhilCare and Cebu Digital Hearing Solutions will conduct the from 8:00 AM to 2:00 PM. The venue will be in front of the Old San Juan Nepomuceno Church, Pob. West, Moalboal, Cebu.
The following services will be available for FREE:
– Consultation
– Ear Cleaning
– Hearing Test
– Newborn Screening
– Informative Conference on Hearing
For those who are interested to avail the services, you may register using this link:
During the medical mission, everyone is reminded to maintain the Minimum Public Health Standards such as wearing of face masks and observance of physical distancing. Moreover, everyone is advised to bring their own fans, water, and snacks while waiting.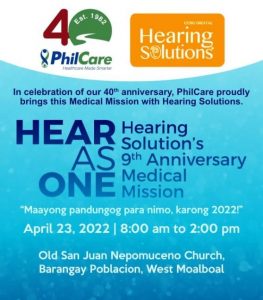 About Post Author