Bala, Tuble, and Batadbatad got the temporary lead of the women's volleyball tournament of the Moalboal Christmas League after winning their first two games at the Moalboal plaza .
Bala outlasted Buguil in three sets, 25-17, 23-25, 25-14, before getting an easy win via default after Lanao failed to show up. On the other hand, Tuble outlasted Poblacion West 25-22 and 26-24 and got its second win against Busay, 25-17, 25-21.
Batadbatad got its two wins against Agbalanga, 25-21, 20-25, 25-20, and against Bugho, 25-22, 19-25, 25-21.
Meanwhile, Pob. West, Pob. East, Agbalanga, Saavedra, Tunga, and Tomonoy share 1-1 records after splitting their first two games.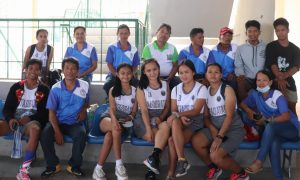 Agbalanga defeated Busay, 26-24, 20-25, 25-11; Saavedra routed Lanao, 25-11, 25-3 and but to Pob. East, 25-20, 25-20; Tunga beat Bugho, 25-17, 25-17, and Tomonoy got its win against Buguil, 25-13, 25-18.
Balabagon and Basdiot are 1-0, while Busay, Lanao, and Bugho are at the rear at 0-2. Balabagon won its debut against Tomonoy, 25-18, 28-26, while Basdiot defeated Pob. East, 25-22, 21-25, 25-20.
About Post Author