Warren Cupta showed up with his hot shooting hand to tow Busay to two easy wins and a 2-0 record in the opening weekend of the Christmas League basketball tournament at the Moalboal Parish basketball court.
Cupta had three three-pointers and finished with 22 points in Busay's 83-75 win over Bugho, while Almar Tarongoy provided ample support with 14 points bouyed by three treys. Bugho leaned on the 33-point combined output of Lacanilao and Canitan as it dropped its opener.
In their second game, Cupta was even more explosive and erupted for 34 points in Busay's 93-69 rout of Lanao. Tarongoy again provided able backup with 11 points on the strength of three treys.  Lanao was led by Jay Nuevo and Frederick Minoza, who combined for 30 points.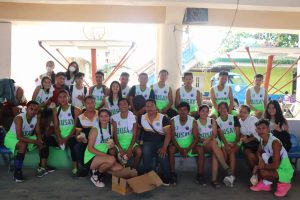 In the other games, J. Dio had 17 points in Agbalanga's 73-66 win over Batadbatad, while Buguil routed Bala, 78-41. Basdiot also got past tPob. West, 54-51, and Tunga outlasted Tuble, 78-75, to win its debut.
The Christmas League basketball tournament continues this week with games held every day at the town plaza.
About Post Author