Municipal engineer Noel Grengia and partner Jess Jeremy Gador kept their hold of the top spot in the Moalboal Parish Tennis Club Nigh Shift tournament after a comeback win over Jake Gador and Rom Caballero at the municipal tennis court on Dec. 8, 2022.
Grengia, the club president, and Gador fought back from 5-1 down and won 8-6 to stay unbeaten in three matches in the tournament, one of three organized by the club.  The current leaders got their first two wins last Dec. 3 against Gerry Rabuya and Gary Gschliesser, 8-4, and Darius Redoble and Dondon Delgado, 8-4. Redoble and Delgado broke into the win column after a hard-fought 8-6 victory against Toniet and John Jephone Gador.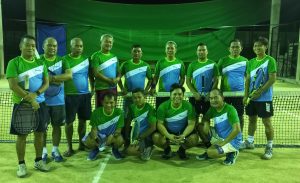 Ray Mendoza and Molly Soringa also nabbed their third win after winning twice on Thursday. The two breezed past Seth Rabuya and Mike Limpag easily, 8-2, and handed Gador and Caballero their second loss, 8-4, to improve to 3-2. Mendoza and Soringa first won against Richard Tabanao and Tej Chiong, 8-3, after losing 8-3 to Aner Ortega and Fr. Gilbert Ytang and via forfeit to Gerry Rabuya and Gary Gschliesser last Dec. 6.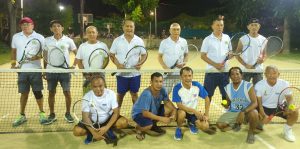 Ytang and Ortega are undefeated in two matches, along with Glenn and Justine Tacoloy.
The Nigh Shift group is one of three tournaments being simultaneously held along with the Sunrisers and Afternoon groups.
The participants of the Sunrisers Group are Mayor Titing Cabaron and Carding Gador, Romeo Pableo and James Paran, Roel Macasero and Bjec Jemeno, Quito Tampos and Lanie Ortega, Felix Palca and Bebs Rendon, and Lito Pableo and Gschliesser, and Limpag and Ernesto Donozo.
About Post Author